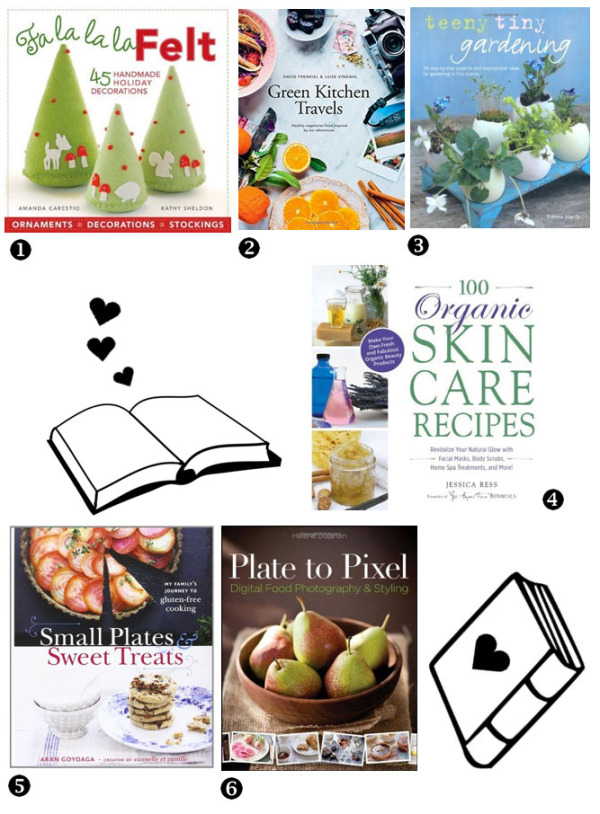 A few books I've really enjoyed over the past month or so. One of these is a very recent release (Green Kitchen Travels) and the rest have all been published in the last few years. (Please note that I use affiliate links for these, you can find more info here).
1. Fa la la la Felt: 45 Handmade Holiday Decorations
by Amanda Carestio. Some super cute craft ideas to make for Christmas using felt. I especially love the tree ornaments and garlands.
2. Green Kitchen Travels: Healthy Vegetarian Food Inspired by Our Adventures
by David Frenkiel. This is from the writers of one of my favourite blogs Green Kitchen Stories. Even though I'm not a vegetarian, I've always loved their use of whole food ingredients, bold flavour and bright colour. The photography in this book is absolutely stunning too, I've actually only had the chance to flick through this so far but it's on my Christmas wish-list!
3. Teeny Tiny Gardening
by Emma Hardy. This is the cutest book ever and has completely inspired me to garden more. I absolutely love all the little arrangements in quirky up-cycled planters. A few favourites include the eggshell garden (on the front cover), vintage teacups and a fairy garden.
4. 100 Organic Skincare Recipes: Make Your Own Fresh and Fabulous Organic Beauty Products
by Jessica Ress. This book has so many great DIY beauty recipes and provided me with so much inspiration for creating my own too. Many of the recipes also use basic fresh (kitchen) ingredients so it's more accessible to the majority of people.
5. Small Plates and Sweet Treats: My Family's Journey to Gluten-Free Cooking by Aran Goyoaga. The photography in this book is some of the best I've ever come across. It is so gorgeous, bright and colourful! The book is by the writer of Cannelle e Vanille and features lots of lovely gluten-free recipes. I am actually yet to try any recipes as I primarily got the book for the photos and it's definitely worth having just for those!
6. Plate to Pixel: Digital Food Photography & Styling
by Helene Dujardin. I've been working on my food styling lately and this is one of the books that has helped me the most. It has lots of great examples of shot styles, set-ups, lighting and equipment and is very encouraging to someone just starting out.